Let People Know - Promote Your Pack Program!

Pack Promotion Topics on this Page (click to jump):
---
Advertising Your Unit: Use Media, Messaging and More!
Let people know what you'll do ... share your list of fun activities. A great program plan isn't enough – you've got to promote it in the Pack and beyond.
As a way to share what you do, empower interested parents to be part of your welcome team – any parent who likes Scouting can spread the word and promote your Pack program.
They can be a big help in letting people know what your unit is doing because peer to peer and parent to parent recommendations are the best.
---
Council "Get Out and Cub Scout" Flyers
The Atlanta Area Council has multiple versions of "Get Out and Cub Scout" Flyers (thanks to Accenture's experience management team).
These flyers can be used for general Pack Program Promotion and as Event Invitations to your fun events (End of year party? Bike ride? Swim Party? Field Trip?)
These can be used for any Sign-Up Event – and Council Professionals will definitely use this format for a School Sign-Up Night.
AAC "Get Out and Cub Scout" Flyers you can download below include these:
An AAC Editable Generic Pack Promotion Flyer in pdf with three blocks you can edit – the main block can be where you highlight your big activities (what you do), a second block for more information including key contact names and phone numbers and emails (maybe a quick dues summary), and a third block for a QR Code (to your website or a social media page with more information, or to launch a "send me more information" email).
A similar AAC Editable Sign Up Event Flyer in pdf, for Sign-Up Events (or as an invite to any fun event, since any fun event can be a welcoming joining event), with similar blocks you can edit for event details, contact information and the QR Code.
Want more edit control? See the AAC Editable Sign Up Event Flyer in Word, and you not only have control over three blocks, but you can edit all of the text and photos to fit your Pack and put pictures of your families on it.
The flyer for a School Sign-Up Night is the AAC Printed Sign Up Event Flyer in pdf and in an 8.5" x 13" size for more information and for printing at the Volunteer Service Center.
A similar flyer for a follow up "Get Out and Cub Scout" joining event (sometimes called a "second chance" event) is the AAC Printed Second Chance Recruiting Flyer, also in pdf and in the 8.5" x 13" size for printing at the Volunteer Service Center.
Want to create your insert for those AAC printed flyers? See the attached AAC Printed Flyer Insert Template And Printing Request Form that you can download, edit, and send to your District Professional with the date/time/place of your Sign-Up Event, contact information, a quick dues summary, and a QR code for more information.
¿Habla español? Also attached is an AAC Printed Bilingual (English/Spanish) Sign Up Event Flyer in the 8.5" x 13" size for printing at the Volunteer Service Center.
Also flyer-sized, see the AAC Printed Pack Promotion Trifold Brochure – let your District Professional know what to put in the customizable centerfold.
Put Your Best Face Forward! Make flyers with pictures of your own Scouts. You are not limited to the current Council or National BSA templates and pictures.

It is OK to make your own flyer with words and images that reflect well on Scouting – as one Cubmaster reported:
"Our best recruiting year was the year when a Council flyer had pictures of our kids having fun ... other kids said 'hey, I know those guys!' and were much more interested in joining. Our Scouts were really eager to hand out 'their' pictures and tell their stories – then, the next year, nobody knew the kids in the flyers, and nobody was interested in them".
See these suggestions about flyer content and design from the BSA Marketing Team.
(Be sure to receive written authorization from those Scout's families –directly or in the release signed by parents on Part A the current BSA Health and Medical Record). Also, never list a Scout's full name: first names only (or, better: no names).

Do It Yourself Flyer Templates. The Do It Yourself Flyers in the Downloads below are examples of what your flyer could look like.

One is a Word template you can open to copy that document to your computer, insert your own pictures and activity information.
Also attached below is a "Sample Editable Flyer Back Page of Pack Activities" – an example of a list of fun activities you can put on the back side of a Flyer.
A great front page should include attractive images – ideally, your own Scouts – or page one of an AAC Flyers described above and downloadable below.
Include a QR code so families can get more information!

QR Codes? Yeah, I see those, and I've used those, but how do I make those?
Make Many Flyers – Keep Current. You're not limited to one flyer for your program year – you can update and circulate a list of your Fun Activities and pictures of your Pack and Den family any time of the year.

Spring flyers for Den and Pack summer fun.
Summer Flyers to prepare for School Year Recruiting
Flyers in the Winter to highlight Spring and Summer Events.
Collect Them All! You might make different versions of your basic flyers.

Pictures of different activities.
Pictures of different Scouts.

National Flyer Forms Too! A wide variety of National materials are at the Marketing and Membership hub at ScoutingWire.

Many BSA flyer templates are front side only, or you can just use the front graphics, and then you can fill the backside with your messages and events – like the "Sample Editable Flyer Back Page of Pack Activities" below.

Need Help With Printing any Flyers? If you need the Volunteer Service Center to do hard copy printing, you can either send them the flyer that you prepared or have them create a flyer with information you provide by using the AAC Printed Flyer Insert Template And Printing Request Form attached below – just complete that form and send it to your District Professional. You'll get hard copies, and an electronic copy that can be shared on Facebook, Insta and other social media easily.
---
Use a Flyer as Your "Pack Packet" of Key Information for New Families
New families don't know how your Pack and Dens operate – some don't know what Cub Scouts even do – you need to have a way to tell them what they need to know so that they want to join you.
Have an easy, simple handout you can share with new families. Something to hand out at recruiting events, at spring and summer fun events, at school, in the car pool line, at church, at the grocery … wherever you meet new families.
Most of the flyers below are designed with QR Codes and work as simple, easy "Pack Packets".
Don't have a Website to put into a QR Code? You have two choices:

Email QR. If you don't have a website, use a QR Code that will send an email to a key leader who will respond with key information about your Pack. Here's a QR Code Email Generator to create a tailored email back to your leader. (There are others.)
Paper Packet. You could have an envelope or a big multi-page document with your calendar of activities, contact lists, FAQs about dues, fundraisers, uniforms, advancement and activities and more.
---
But Wait – There's More! Signs and Other Hard Handouts
Yard Signs – if your families put them in their yards, if you put them at your schools and churches and community centers (with permission), you can create awareness that your community has Cub Scouts!

But what do you put in the big white space? Big Bold Letters So People Can Read!
You have many options for what you put on the sign, but here's some:

At a School: Sign Up Night Here, August 23 @ 6:30
In many locations, like the front of a house: Call 404-123-4567 for info! or Call the Cubmaster at 404-123-4567 for info! (Or a short email address.)
If you laminate a big QR Code and securely tape it on, people can access your information that way. For more information, see [QR].
Realtors often have a pouch of flyers on their signs – if you securely attach a plastic pouch with your Pack Packet or other flyer, it will get into more hands.

"Standees" – The Council has some Cub Scout cardboard cutout standing and showing the Cub Scout sign. These are perfect for holding the Tri-Fold Brochures, but you could attach your own Flyer or Pack Packet pouch.
Peer to Peer Cards – let Scouts share kid to kid. To join, to attend a sign-up event, or just to attend a fun event.

Can you make Cards to invite another Parent to be a Leader?
Of course you can!

Stickers! – Scouts (and kids) will know what to do with these.
Parent Orientation Guide – The updated version of this will appear at the AAC Join Cub Scouts page.

It will be a handout at School Sign-Up Nights, but starting in July/August you can get extra copies for any Pack Fun Sign-Up events.

This has general information about Scouting and the Atlanta Area Council resources for parents and Packs – but not your Pack's information.
---
Social Media and E-Messaging: Free and Easy Publicity
There are lots of paths to promote your Pack using social media, electronic messaging and even traditional media – pick all you like. See this video for a summary of key social media concepts.
The benefits of social media and electronic messaging – they are free, easy for your families to share, and can go viral if your families do share.
Soft media can share your flyers that have your calendar of fun activities – and so much more. Routes that don't involve printing and delivery include:
No media method works every time for everyone, but every media method works some of the time for someone. The biggest communication failure is the failure to communicate.
---
Photos and Videos (Tell and Show): Using electronic and social media – and your flyers – your Pack Promotion can take off, because you don't just "tell" people about your Pack, you "show" them.
Your own Photos and Videos are best – they show what your Scouts and Families do. And they are most likely to be shared on social media or shared by parents with their kids.

Use photos wisely – take a lot, but share the best ones in your social media channels.
(You can keep a photo site with a larger gallery of pictures for those who want a deeper dive.)

You might do more than just have photo galleries because you can create presentations with tools like animoto. There are many different tools: enter "best free slideshow maker" in your search engine, and you'll find resources.
There's plenty of official video from National BSA and the Atlanta Area Council – much of this can be great sharable content for your families on your social sites.
Don't forget about making your own videos!

Candid video clips go viral faster than photos.

You'll love those photos and videos at the end of the year for your Blue & Gold Banquet, and then again when you share it with School, Church, Neighborhood, Social Media and more – like when you do a Sign-Up Event for new families.
---
Peer-to-Peer and Parent-to-Parent Promotion: Powerful!
One on One Messaging is the best! Peer to Peer – Parent to Parent – Kid to Kid. The recommendation of a friend or fellow school parent will mean more than the testimonial of even the best Pack Leader. Kids can invite kids, parents can invite parents, and that's how you grow.
Personal Follow Up. If you or a welcoming parent/New Member Coordinator reaches out to someone you know or someone you met at a Sign-Up Event, and invite them to a Fun Den or Pack activity, that is more powerful than a group ask.
Phone It In. While it's not the universal way to reach out to people in this era when people text "can I call you?", sure, you can call other families in your Scout's grade and tell them about why you like Scouting.
Mail It In. While it costs the price of a stamp, a letter or postcard is even more personal and might make an impact.
Empower Your Scouts. Give them "peer to peer" cards that say, "join us" (and maybe have a QR code to connect to your welcome page – kids will want to have their parents show them on their phones, if they don't have their own). Give your Scouts stickers to share, or bookmarks or other enticements.
Incentive Your Scouts to Promote Peer to Peer. Is there a badge for Recruiting? There sure is – the Recruiter Strip – so show your Scouts and families what they can get when they bring a friend to your Den. Maybe have a further contest and other prizes.
Re-brand a Fun Event as a Joining Event. Are you having a Fun Den or Pack Joining Event at a Pack Meeting? Maybe give it a new name for your Scouts: call it "Bring a Friend Fishing Day", or "Bring a Buddy Bike Ride", or "Scout Out New Places With New Friends".
Chalk It Up. Can you write "Join Pack 1234" in chalk on your sidewalk? Sure you can.
Rock On. Painted Pebbles are a thing. Paint "Join Pack 1234" and leave them on the trail? Why not.
---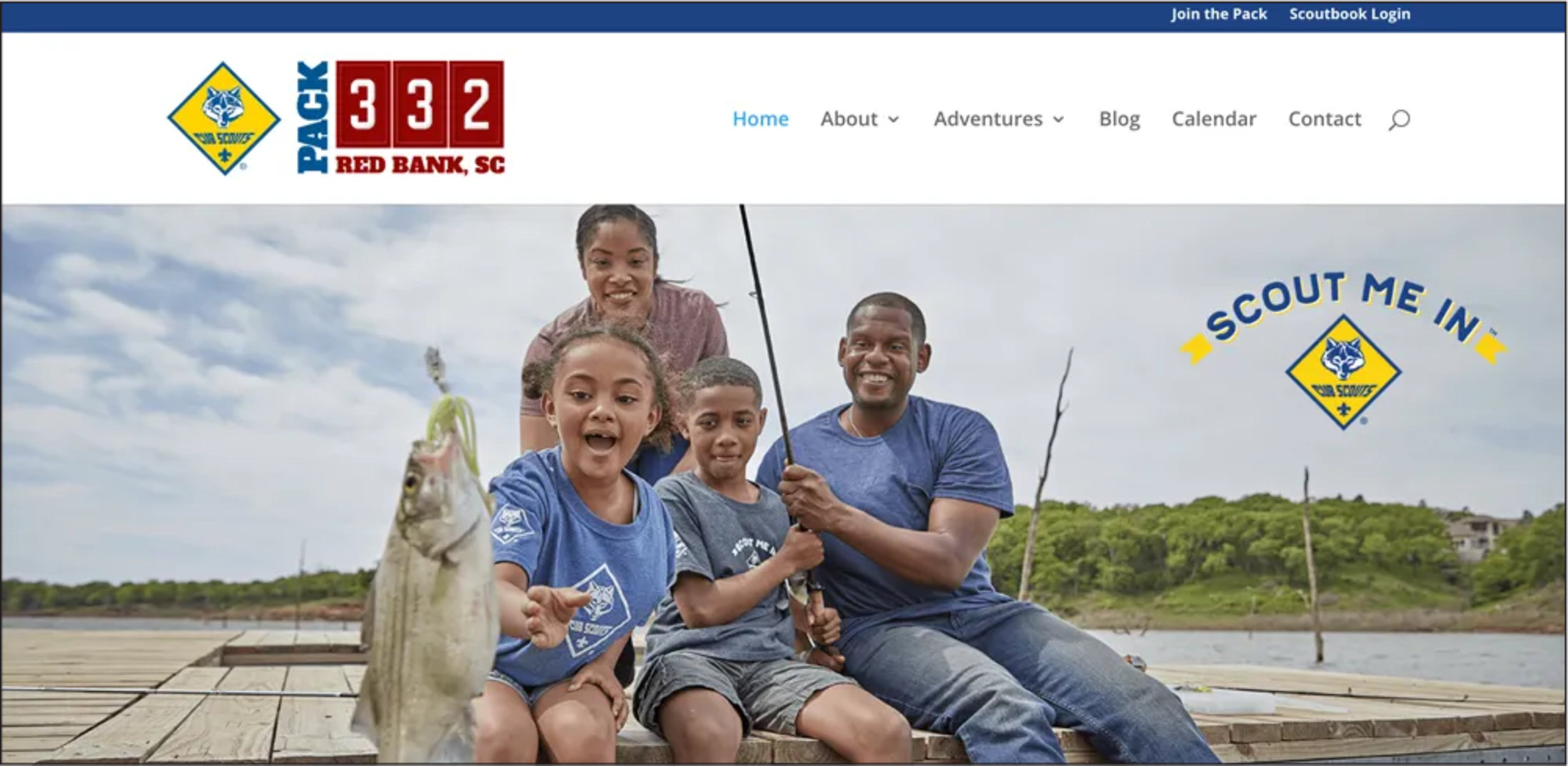 Keep Your Families "In the Know" – Unit Websites
As part of welcoming new families and staying in touch with all, be sure that you communicate with all families about upcoming events, and about how your Pack operates.
Families will want to know things like "when's the next event?" and "who are my den co-leaders?" and "what uniform parts do I really need to buy?", so having some source of information – whether website or Pack FAQ guide or calendar and contact list or all of those options – is essential.
---
Automatic National and Council Emails are Sent to New Pack Families (And What You Should Do About That)
The third email for those who register online through beascout.org is a "Gear Up" email, with a ScoutShop link to the Uniform and Handbook for the youth and a link to find a Scout Shop.

So if the $140/$150 price of a full uniform kit is more than your Pack requires, you would be helpful, friendly, courteous and kind to let your new families know!

Those who register with a paper application will get a combination of the first and third – "Welcome and Gear Up".

---
Click to jump to other Recruiting Resource pages: Recruiting Resources (Home), Step One: Make a Calendar of Fun Activities, Step Two: Promote your Unit! (and BeAScout / Online Apps), Step Three: Recruiting Leaders, Step Four: School and Community Presence, Step Five: Sign-Up Events, Parent Orientation, and Scouts BSA Troop Recruiting
---