Popcorn
Every Scout should learn the value of hard work and earning their own way. The popcorn sale is the perfect opportunity to teach this valuable life lesson and fund the most exciting year of Scouting ever. Over 70% of the popcorn sale supports your programs and local Scouting!
Scouts gain confidence, salesmanship and communication skills, and a sense of accomplishment. The popcorn sale is not just about selling popcorn; it's also about promoting Scouting and the Scouting ideals!

The 2022 Popcorn sale is coming to an end!
Thank you for participating in the 2022 Popcorn Sale. This is a reminder the final payment for popcorn is due on D

ecember 7, 2022, and it is the last day to pick up all $7

50 Club prizes.
View your invoice or balance due to Council before you make your payment in case credits were recently applied or H&H donations were added. If you find any discrepancies, please contact Mary Chesser at mchesser@atlantabsa.org to review. Any overpayment of invoices will be issued at the end of February 2023 along with the bonus commission if earned.
Making Popcorn Payments is easy.
We now accepting credit card payments to pay the 2022 Popcorn Invoice.

Pay Now!
Make checks payable to "Atlanta Area Council", mark check for popcorn payment and mail to:
Atlanta Area Council
Popcorn Payment
1800 Circle 75 Parkway, SE
Atlanta, GA 30339
Checks need to be postmarked by December 7, 2022, to count towards the bonus commission, or you can drop by the VSC and the Program Center Team is willing to take your payment as well.
To view your Popcorn Invoice:
Log Into the leader portal

Click Account Summary

Upper Left Box will state Due to Council

Click on the Invoice Statement to download a copy of the invoice.
You can continue to sell if you have inventory until the end of Dec. 31, 2022. Your invoice just needs to be paid by December 7, 2022.
---
Missed a Council Kick-Off Meeting?
Click here to review the Council Virtual Kick-Off Meeting
---
$750 Club Plush Hoodies Available for Pickup
$750 Club Plush Hoodies Available for Pickup. Once a Scout sells $750 in popcorn sales, they are eligible for the $750 Club Prize.
Oversize Plush Hoodie Hoodies can be picked up at the Volunteer Service Center in the Program Office located at 1800 Circle 75 Parkway, SE, Atlanta, GA from 8:30 am - 6 pm - M-F and 9 am-1 pm on Sat.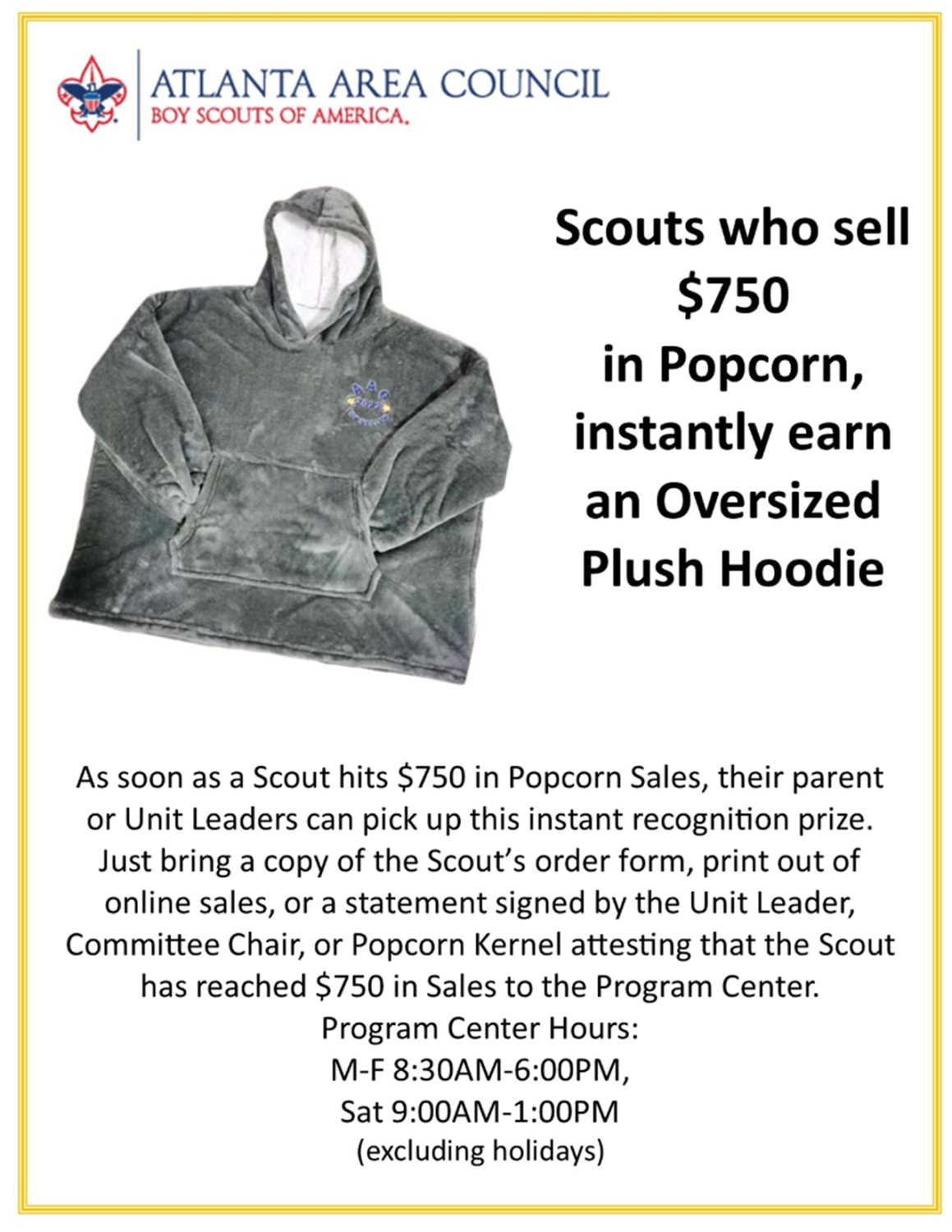 ---
Order 3 Take Order Deadline- Mark Your Calendars
Order 3 Take Order deadline has been moved to Oct. 17, 2022, with a popcorn distribution of November 5, 2022. Units will also need to order their American Heroes Donations on this order. Look for more details in the Briefs and Update popcorn newsletter in the coming weeks.
---
How to Sell Popcorn
| File Name | Description | |
| --- | --- | --- |
| 2022 AAC Leader Guide | Here is the 2022 AAC Leader Guide to help with your sale. | Download |
| 2022 Commission Structure | Commission structure and bonus commission structure. | Download |
| 2022 District & Council Popcorn Contacts | District Kernel Contacts and Council Popcorn Contacts | Download |
| 2022 Popcorn Calendar | View the 2022 popcorn schedule. | Download |
| 2022 Take-Order Form | Here is the 2022 Take-Order Form for wagon sales. | Download |
| 2022 Trails End Kernel Guide | View the 2022 Trails End Kernel Guide to help you navigate the popcorn sale. | Download |
| 2022 Unit Kick-Off Presentation | Use this presentation to kick off your unit's popcorn kick-off meeting. | Download |
| Become a VIP! | Here are the sales figures to reach VIP status. | Download |
| Mission Popable Logo 1 | Use this logo to help advertise your popcorn sale. | Download |
| Mission Popable Logo 2 | Here is another logo to use throughout the popcorn sale. | Download |
| Popcorn Patch Design | Use this form to submit a patch design. | Download |