Cyber Day Camp | Programming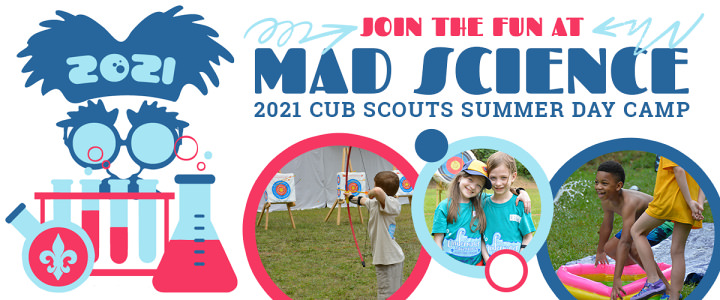 Get ready for an Exploding summer experience with Cub Scout Cyber Day Camp with our Mad Scientist Team
Register for On-Demand Cyber Day Camp!
Cost:
Atlanta Area Council Families $55 Box (includes shipping)
Out of Council Families $65 Box (includes shipping)
Add a shirt for $10.00 or $13 for sizes over Adult XL
What Is Cyber Camp
Utilizing the Canvas platform, families will gain access to a Monday – Friday schedule of activities that are at a time and a place that fits your family's needs.
Each Box includes a patch, everything you need to complete activities, Book of instructions and fun interactive videos that add Pizzaz to the week.
You can expect to receive your box within 2-3 weeks after your purchase. Boxes ship out on Wednesdays.
What Special Guests will you see in our premium box?
Brit Bowers returns to teach your child how to paint.
Chef Asta returns to help you cook up something yummy in the Kitchen.
New! Mr. Bond's Science Guys has a 45-minute program for all participants
Invite your family, friends, and neighbors to join this on-demand camp experience. You do not have to be a Scout to join us and have fun!
Interactive Week June 21-25 Schedule: 9 AM - 3 PM
9 AM - Opening ceremony
30-45 minutes - Den Specific Activity break out
box experiment or activity
optional other video/activities
Group virtual lesson/expert
Closing ceremony
Flip Grids, Kahoots, and Goose Chase activities
Everything is recorded and will be on-demand | Great for replaying and can be done at any time convenient for the family
Complete Before Camp:
Cyber Chip link
What's in the Box?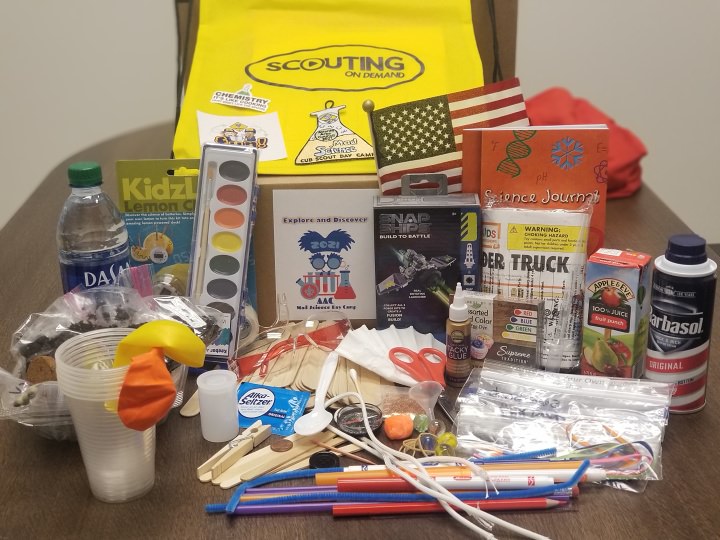 Materials for the following activities/experiments
| | |
| --- | --- |
| Experiment | Activity |
| Moon Rock | Clothespin Airplane |
| Walking | Robot hand |
| Water | Seed Bomb |
| Rain Cloud | Plastic Bag greenhouse |
| Paper Chromatography | Soda Bottle Rocket |
| Moving Colors | Mobius Strip |
| Flying Fish | Lemon Battery |
| Erosion | Gravity Paint |
| Balloon Blow up | Exploding craft sticks |
| | Catapult |
| | Snap Ship |
---
Cyber Day Camp prepare younger children by building up their confidence.
What Cyber Camp Activities Will Your Child Completed? - Coming soon!
1st Grade or Tiger Scouts
2nd Grade or Wolf Scouts
3rd Grade or Bear Scouts
4th and 5th Grade or WEBELOS and Arrow of Light Scouts