Merit Badge Summit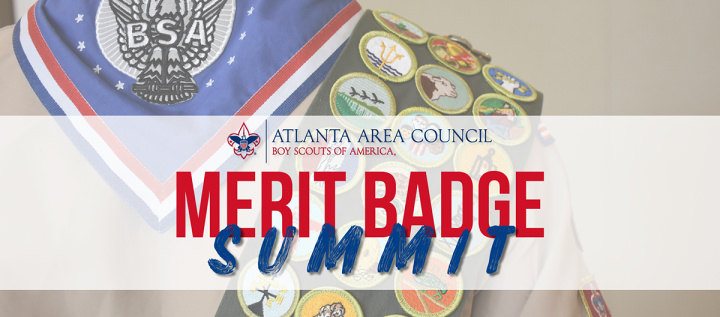 Upcoming Merit Badge Summits
STEM Merit Badge Summit
Saturday, April 29, 2023 | Kennesaw State University Marietta Campus
Our April Merit Badge Summit will be dedicated to earning STEM-related merit badges! Check out the course schedule and outside requirements for each merit badge here!
---
Merit Badge Summit is a quality Merit Badge program that helps Scouts learn about different fields of knowledge. By recruiting experienced professional counselors, Scouts receive an unparalleled experience. Interested in being an instructor? Let us know here.
The per-class registration fee of $20 includes program materials for most classes with only a few exceptions. A few classes may have additional fees or may run shorter or longer than the event schedule. You will be notified of any of these exceptions by the instructor after you register.
All classes (with a few exceptions) will be 4 hours in length. Classes will usually be offered either from 8 AM – 12 PM or 1:00 PM – 5:00PM. If you are staying all day, please bring a lunch. We will be adding an additional cost option for Chick-Fil-A box meals for either a sandwich or nuggets at $10 per meal. This option can be found by selecting 'Order Products' at the bottom of the page when checking out.
Complementary parking and drop-off will be available on Deck P60 (see map below for location). You will then need to take the stairs leading up to the campus entrance where you will see signs directing you to the Engineering Technology Center.
There will be an optional campus tour following the end of the afternoon class at 5:00PM. You will see this option as period 3 in Tentaroo.
Please see the attachments below for:
Outside Requirements
Flyer
Full Day Schedule
Map
---
NOTE: Please be aware that not all merit badges can be completed during this clinic. Please refer to the prerequisites noted next to the classes
---
Completion Reports and Blue Cards
The instructor of each class will log all completions and submit them to the Council office. Please allow at least a week after the course for the data to be entered into our system.
Scouts may come out of the event with a "partial" meaning there are requirements remaining to be completed. This could be due to requirements that are unable to be addressed during the merit badge session, there are requirements that can't be completed on site, or due to the Scout failing to meet the requirement standard during the session. After the event, the Scout will need to keep in touch with the counselor from that class or find a merit badge counselor to work with to complete the merit badge either within their troop or in their area. Reminder when Scouts are contacting counselors that they follow the 2-deep leadership by having an adult cc'd to the email or on speaker phone with that counselor.
After two weeks from the event, we will not be putting in additional completed requirements to the event due to the fact that the report will state completed on the event date.
To pull past reports please log in to your AtlantaBSA.org account, same account you registered for the event, then follow these steps.
Select "Events" on the far left of the screen
Select "My Past Events"
Select "Merit Badge Summit"
Select "Past"
Select the date you attended
Scroll down to "Registration"
Click on "Reports" button
Select "Completion Report, PDF" or you can download the front/back of a blue card
Stranger Things Merit Badge Summit October 2023 October 28, 2023