A Family-Led Fun Program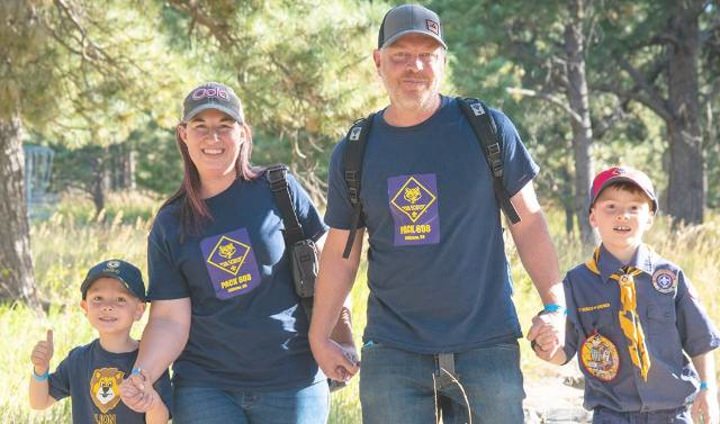 Family-Led Cub Scouting - Led by Parents, Parents Guided by Den + Pack Leaders
As described on this "What Does Cub Scouting Look Like Now?" page, many Dens and Packs will operate very differently this year. The safest approach is a Family-Led Fun Program (it was described there as Plan "B"), and assumes that group activities are limited, either by regulation or reluctance and that Dens and Packs who want to do Scouting will want to use a program of Family-Led Activities.
Most of the program would be family-led done at home by families, and maybe sometimes done at the same time (or approximately the same time) as a "virtual" Den or Pack activity.
Under a Family-Led Fun Program, a key role of a Den or Pack Leader changes from "lead the Scouts in program activity" to "guide the Parents so the Parents can lead their Scouts in program activity".
Family-Led Activity Plans are posted as Adventure by Adventure attachments on, respectively, our Bobcat page, and the Adventure pages for the "Required" Adventures (other than the family faith adventures) for Tiger, Wolf, Bear and Webelos Ranks.
---
Family-Led Fun Program
Under a Family-Led Fun Program (f/k/a Plan "B"), few or no group in-person activities will be held because most of the Cub Scout program can be done through family activities and virtual Den and Pack connectivity and communication -- and because of the risk of group activities.
Family Activities: Most of the program would be family-led and on the family's schedule, led by a parent with guidance from a Den or Pack Leader – almost all advancement elements are done at home by Parent and Scout or with the full family. Parents are essential as leaders of their Scouts – Den + Pack leaders guide the parents about how to lead their Scouts. Some activities may be done at the same time so as to be a "virtual" Den or Pack activity where families can check in with each other.
Den Coordination (Some Virtual Meetings): A Den Leader's primary role becomes guiding parents about how to do Cub Scout activities at home; the secondary role is "checking in", with parents and Scouts, either in group calls or Zooms. Maybe some "virtual" meetings (likely shorter than "in-person" meetings) -- but sharing need not be on Zoom or at the same time. Sharing can be pictures, videos, written stories, shared by text, email, social media. The phone can be used to check in with each other.
Pack Activities: Maybe monthly or less often since group outings are limited and larger "virtual" events are difficult -- even in regular times, it's hard to get everyone on the same schedule. Activities can be "virtual" - campouts on the same night (or weekend, or month - whenever the family can), hikes on the same day/weekend/month. Maybe Pinewood Derby with staggered "live" in-person attendance and broadcasts to all over the video feed.
FYI, there can be small group activities conducted safely, for example, if you and another family are in a limited "cohort" group -- sometimes called a "pod" or "bubble" who are completely comfortable with each other's adherence to physical distancing and safety.
Note: this is not the same as a random group of a small number of people, so few dens would be true "cohort groups" even though there may be "cohort groups" in a den -- or "quasi" cohort groups like the youth who are in school in person in the same classroom or classroom cohort.
---
Why Would Parents Put Their Kid in a Pack if Someone Else Isn't Doing All of the Leadership?
If it's not safe to meet in groups, or many families don't feel it is safe, we need to find effective ways to have Scouting adventures.
While we are safe and physically distancing, our children must grow up – and Scouting is a great help in raising children.
Parents are Leaders of their Children, and those children need to grow up whether or not we're physically distant.
Family members can and should be a leader to their own Scout because Family Involvement is a key method of Cub Scouting
For best results, Dens and Packs should use shared or collective leadership, with every parent leading something.
So this is just an extension of being a parent and an extension of the best type of Den and Pack participation. Through the support of the Den, the Pack, and beyond in the BSA, parents will get helpful tips on how to parent.
So the reason to join and lead your own child as part of a Den and Pack is because it will help you raise your child.
"Cub Scouting is fun for the whole family. In Scouting, boys and girls start with their best right now selves and grow into their very best future selves. It's fun, hands-on learning and achievement that puts kids in the middle of the action and prepares them for today – and for life".
Families joining together in Dens and Packs are just working together to prepare their kids for life.
---
What Does a Family-Led Fun Program Look Like?
Assuming that Dens and Packs want to leverage off existing programs of the Atlanta Area Council as well as other local resources, it would look like a series of fun activities, done family by family on their own schedule, with field trips, and Advancement activities so that Scouts can earn loops, pins, Rank badges and other awards.
A Family-Led Fun program does not need everyone to do an activity at the same time.

While you might do a "live broadcast" over Facebook or Zoom, be sure to let families know that they can do the activity on their own schedule -- and let them know how to do the activity -- like with these Family-Led Adventures.

If you "live broadcast", don't limit the sharing to just the live broadcast -- share by text, email, social media, and encourage families to share their pictures, video and stories back to the Den.
A Den Leader could develop (in consultation with parents) a plan of activities, and then share Adventure plans monthly.
In family-led Adventures, Den Leaders might make suggestions for the whole den, and for individual families, on matters like:

When to do Required Adventures, keeping in mind weather and other opportunities.
Which electives to do to "earn the Rank" -- and there might be different electives for different Scouts, depending on parental skills and hobbies.
Which "options" to do to "complete an Adventure.
Where families might go to do outdoor components -- you'll know your neighborhood best, and find great locations that are not as crowded as others.
---
A Possible Pack Program Plan for Family-Led Fun.
Here's a possible Pack Program plan, below, and in the attachment in a form that could be on the backside of a Pack Promotional Flyer -- plus tailored versions for several Den levels that just list and links to the Adventures available in their dens. This is just one way:
This front-end loads more "Required" Adventures, but you can adjust the schedule as you like.
You can dial-up or down the level of "live" broadcasting you might do:

This assumes someone will be able to Facebook Live or Zoom some of the events. You might be able to just follow along with pictures and videos after the fact.

This flyer assumes you might attend a live Council event in October, but you can write that option out if you believe it is safest, and just go with family-selected local and backyard outdoor activities.
Pick Electives you like, that your families would like.
Pack and Den Leaders might want to coordinate on universal activities so that families with kids at different ranks can do similar Adventures together.

Dens can then add their own copy to the Pack Flyer, cut the Adventures from "other" ranks, and add any special Den flavor.
---
Excerpt from the attached Pack Program Page:
"If you're thinking "nobody can do Cub Scouts now – it's not safe to have meetings!", think again!
We can do Scouting with At Home Fun Family Adventures. Every Scout will get a Handbook of Adventures and we'll provide every family lots of resources to bring those Adventures to life as family activities – we describe some Adventures below, including the ones highlighted below for K through 5th Grade (flagged as K, 1, 2, 3, 4 or 5 below). And we'll find ways to share and connect with our Cub Scout community.
Here are some of the fun things that Cub Scouts in our Pack can do over the next year*:
At Home Fun Family Adventure Schedule – Fall of 2020
August: Roll On! Bike riding and/or marble racing. We'll have live bike rodeo video sharing the weekend of August 15-16, while you ride in your neighborhood any time in August. We'll share "how to" tips about bike safety and more – all Scouts can earn the Rolling Tigers and/or Marble Madness Adventure Loop.
Labor Day Weekend: Cub Scout Game Day Live! No Olympics less College Football, so pick a family game or sport and play. We'll share video highlights on Labor Day. Plus tips about how Scouts can earn the Lion's Honor and Fun on the Run (K), Games Tigers Play (1), Running with the Pack (2) or Roaring Laughter (3) Adventure Loops, or the Stronger, Higher, Faster (4) or Sports (4/5) Adventure Pins.
September: Hike On! Hike your neighborhood or beyond. We'll have live hiking video sharing September 18-19 – you can hike anytime. We'll share tips about hiking – Scouts can earn the Mountain Lion (K), Tigers in the Wild (1), Paws on the Path (2) or Fur, Feathers and Ferns (3) Adventure Loop, or Webelos Walkabout (4) or Outdoor Adventurer (5) Pin.
October: Camp On – or Camp In! We might go to Bert Adams Scout Camp for Trailblazer on October 3 or October 24 for Spooky-Ree, as they plan socially distant exploration activities – or your family can go to a more physically distant location anytime. There may be overnight camping at Bert Adams – not required – or you can backyard camp at home! Scouts can earn the King of the Jungle (K), Backyard Jungle (1), Call of the Wild (2) or Bear Necessities (3) Adventure Loop, or Cast Iron Chef (4) or Outdoor Adventurer (5) Pin. We'll share tips about how to do that.
November: Citizen On! Learn more about your community and service. We plan to share activities for November 14-15 – you can do yours anytime – and your Scout can earn the Animal Kingdom (K), Team Tiger (1), Council Fire (2) or Paws for Action (3) Adventure Loops, or the Aware and Care (4/5) or Building a Better World (5) Pins. We'll tell you how.
December: Know Your Family Beliefs. Take a pause to reflect on what your family faith beliefs are. Scouts can earn family faith Adventure Loops or Pins for Tiger, Wolf, Bear, Webelos and Arrow of Light ranks.
Winter Break: Cook On! Time to make something delicious and share with families. If you share a recipe, we'll share how to earn the Fun on the Run (K), Tiger Bites (1), Running with the Pack (2) and Bear Picnic Basket (3) and Bear Claws (3) Adventure Loops, or the Cast Iron Chef (4) Pins.
At this point in the calendar, every Scout participating in those events will be no more than 1 Adventure away from earning their Rank badge! Some may be finished and completing further fun elective Adventures.
By then, we should have a better idea of how the rest of the program year will look for live in-person events and additional coordinated family-led activities. Either way, we will have more outdoor activity opportunities, plus a Pinewood Derby, service projects, and a "Blue & Gold Banquet" with Awards and Recognition.
And if all is returned to normal by next Summer:
Let's do the Cub Scout Twilight Camp, probably in June
Cub Adventure Camp at Bert Adams Scout Camp near Covington, GA, with several 2- or 3-night sessions (details will emerge at www.AtlantaBSA.org, under "Camp")"
---
See below the attached copy in Word, and you can edit away to highlight how your Dens might want to plan a program year.
| File Name | Description | |
| --- | --- | --- |
| Sample Bear Family-Led Fun Flyer Back Page with Your Calendar of Family Led Activities | | Download |
| Sample Pack Family-Led Fun Flyer Back Page with Your Calendar of Family Led Activities | | Download |
| Sample Tiger Family-Led Fun Flyer Back Page with Your Calendar of Family Led Activities | | Download |
| Sample Webelos Family-Led Fun Flyer Back Page with Your Calendar of Family Led Activities | | Download |
| Sample Wolf Family-Led Fun Flyer Back Page with Your Calendar of Family Led Activities | | Download |