A Family-Led Fun Program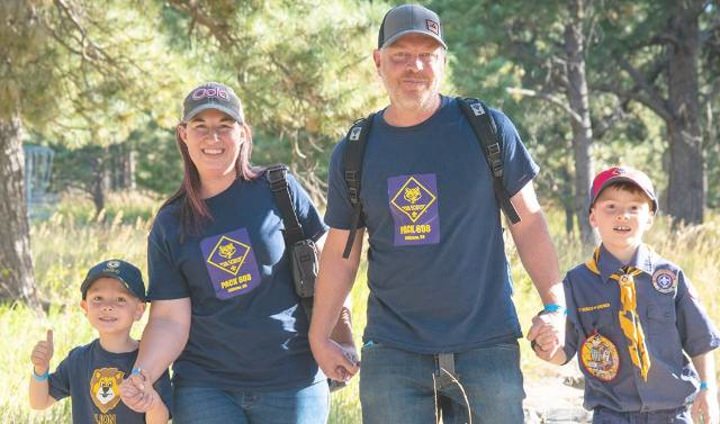 "Family-Led" Program Topics on this Page (click to jump):
In 2020 and 2021, with many families wary of group activities and deciding to not participate in some (or sometimes any) in person group activities, Dens and Packs wanted to know: how can we support Scouts and families who aren't ready yet to jump back in to full group in person participation.
Answer: support – and share with families – how they can do Cub Scouting alongside your group activities. This is still a good approach today when fewer families avoid group activities, for this primary reason: Sharing Family-Led Adventure Activities with parents makes them more able to help their Scout, both at home and in Den or Pack activities. More detail below.
Family-Led Cub Scouting - Led by Parents, Parents Guided by Den + Pack Leaders
As described on the "What Does Cub Scouting Look Like Now?" page, many Dens and Packs had to operate very differently starting in March of 2020. The safest approach for pandemic program was a Family-Led Fun Program, and assumed that group activities are limited, either by regulation or reluctance and that Dens and Packs who want to do Scouting will want to use a program of Family-Led Activities.
Most of the program would be family-led done at home by families, and maybe sometimes done at the same time (or approximately the same time) as a "virtual" Den or Pack activity.
Under a Family-Led Fun Program, a key role of a Den or Pack Leader changes from "lead the Scouts in program activity" to "guide the Parents so the Parents can lead their Scouts in program activity".
Family-Led Adventure Plans are posted through Atlanta Area Council resources like our Cub Adventure resources and Scouting on Demand.
---
How a Family-Led Fun Program Works
Under a Family-Led Fun Program, the Scout and their family might participate in few group in-person activities, whether they miss an activity and need to "catch up" at home, or they join after the Den has started completing advancement Adventures, or they have continued COVID concerns. This works because most of the Cub Scout program can be done through family activities and virtual Den and Pack connectivity and communication. In 2020-21, many Packs and Dens operated in a "hybrid" style, with some in person Den activities (and carefully structured Pack activities when safe), while other families participate using family-led resources. More on this is found at the "What Does Cub Scouting Look Like Now?" page.
Bottom Line: A Family-Led Program is a series of fun activities, done family by family on their own schedule, with field trips, and Advancement activities so that Scouts can earn loops, pins, Rank badges and other awards – including to "catch up" on a missed Den activity or to deliver the Cub Scouting program in a way that fits the family schedule. For example, this can accommodate a family that likes Pack weekend activities but cannot get to weekday Den meetings – they can do the weekend activities and do Advancement at home.
A Den Leader could develop (in consultation with parents) a plan of activities, and then share Adventure to families who need the Family-Led route, whether to "catch up" or as the primary route to that Scout's advancement.

Savvy Den Leaders will share a link to the Adventure resource page with all Den families before group meetings/activities, because it makes parents better able to help. Like "this week we're going to start work on the bike riding adventure – see this link for more information".
Sharing with those who elect to do Rank Advancement Adventures at home would be similar – a family that can't make the Den bike ride activity could do it at home.
(And in case you didn't know, before a couple decades ago, BSA materials directed that advancement would be done mostly at home, by the parents with the Scout. Doing it all in the Den Meeting is a relative recent phenomenon. )

In family-led Adventures, Den Leaders might make suggestions for the whole den, and for individual families, on matters like:

When to do Required Adventures, keeping in mind weather and other opportunities.
Which electives to do to "earn the Rank" -- and there might be different electives for different Scouts, depending on parental skills and hobbies.
Which "options" to do to "complete an Adventure.
Where families might go to do outdoor components -- you'll know your neighborhood best, and find great locations that are not as crowded as others.

A recent program of the Atlanta Area Council on Den and Pack Leader Roles in Family-Led Program shared ideas about how to lead in this environment. See the PowerPoint attached below, and a video of that Webinar also attached below.
Sharing these resources is just an extension of being a parent and an extension of the best type of Den and Pack participation. Through the support of the Den, the Pack, and beyond in the BSA, parents will get helpful tips on how to parent.
That means the reason to join and lead your own child as part of a Den and Pack is because it will help you raise your child. "Cub Scouting is fun for the whole family. In Scouting, boys and girls start with their best right now selves and grow into their very best future selves. It's fun, hands-on learning and achievement that puts kids in the middle of the action and prepares them for today – and for life". Families joining together in Dens and Packs are just working together to prepare their kids for life.
---
A Possible Pack Program Plan for a Full Year of Family-Led Fun.
A possible Pack Family-Led Program plan is below and in the attachment in a form that could be on the backside of a Pack Promotional Flyer – you can then revise that into tailored versions for each of your Den levels that just lists and links to the Adventures found in their Handbooks. (Note: This is just one way – you can alter your activities and themes and the order of your Adventures):
This plan loads more "Required" Adventures into the fall, but you can adjust the schedule as you like. For example, if you start in September, go ahead and work in the fun game events from August and Labor Day Weekend when it works for you.
Pick Electives you like -- pick activities that your families would like.

To help guide "multi-Den" activities, here's a resource page that shows which Adventures have similar elements.
But don't shy away from allowing all your Scouts to work on Adventures if they are interested in the topic or activity. For example, there's no reason why fishing needs to be just a third grade award. You can still do the Adventure and award the Loop if a Scout completes the requirements (it just won't count as an Adventure for your current rank badge). More on why that's OK is at this page.
Here's some of the fun things that Cub Scouts in our Pack can do over the next year*:
Fun Family Adventure Schedule – 2022-2023
August: Roll On! Bike riding and/or marble racing. We'll have a bike ride or rodeo and share "how to" tips about bike safety and more – all Scouts can earn the Rolling Tigers and/or Marble Madness Adventure Loop.
Labor Day Weekend: Cub Scout Game Day Live! Pick your favorite game or sport and let's play. Scouts can earn the Lion's Honor and Fun on the Run (K), Games Tigers Play (1), Running with the Pack (2) or Roaring Laughter (3) Adventure Loops, or the Stronger, Higher, Faster (4) or Sports (4/5) Adventure Pins.
September: Hike On! Hike our neighborhood or beyond. Earn the Mountain Lion (K), Tigers in the Wild (1), Paws on the Path (2) or Fur, Feathers and Ferns (3) Adventure Loop, or Webelos Walkabout (4) or Outdoor Adventurer (5) Pin.
October: Camp On – or Camp In! Let's go to Bert Adams Scout Camp for Trailblazer on October 1 or October 21-23 for Spooky-Ree, for safe activities and camping. Scouts can earn the King of the Jungle (K), Backyard Jungle (1), Call of the Wild (2) or Bear Necessities (3) Adventure Loop, or Cast Iron Chef (4) or Outdoor Adventurer (5) Pin. We'll share tips about how to do that.
November: Citizen On! Learn about your community and service. We'll share activities for November 12 – and your Scout can earn the Animal Kingdom (K), Team Tiger (1), Council Fire (2) or Paws for Action (3) Adventure Loops, or the Aware and Care (4/5) or Building a Better World (5) Pins. We'll tell you how.
December: Know Your Family Beliefs. Take a pause to reflect on what your family faith beliefs are. Scouts can earn family faith Adventure Loops or Pins for Tiger, Wolf, Bear, Webelos and Arrow of Light ranks.
Winter Break: Cook On! Time to make something delicious and share with families. If you share a recipe, we'll share how to earn the Fun on the Run (K), Tiger Bites (1), Running with the Pack (2) and Bear Picnic Basket (3) and Bear Claws (3) Adventure Loops, or the Cast Iron Chef (4) Pins.
January: Build On! … your Scout can earn the Build it Up, Knock it Down (K), Good Knights (1), Motor Away (2) or BALOO the Builder (3) Adventure Loops, or the Build It or Fix It (4/5) Pins.
February: Safely On! … your Scout can earn the Pick My Path (K), Safe and Smart (1), Germs Alive (2) or Finding Your Way (3) Adventure Loops, or the First Responder (4) or Castaway (5) Pins.
March: Laugh On! … your Scout can earn the Rumble in the Jungle (K), Tiger Tales or Tiger Theater (1), Howling at the Moon (2) or Grin and Bear It or Roaring Laughter (3) Adventure Loops, or the Maestro! or Moviemaking (4/5) Pins.
April: Grow On! Earn the Ready, Set, Grow (K), Backyard Jungle (if you didn't plant something yet) (1), Grow Something (2) or Fur, Feathers and Ferns (if you didn't plant or compost yet) (3) Adventure Loops, or the Into The Woods (4/5) Pin.
May: Nature On! … your Scout can earn the Mountain Lion (K – or do it again), Sky is the Limit (1), Air of the Wolf (2) or Critter Care or A Bear Goes Fishing (3) Adventure Loops, or the Earth Rocks or Into the Wild (4/5) Pins.
June: Fun On! Earn the On Your Mark or Gizmos and Gadgets (K), Tiger-iffic or Tiger Tag (1), Digging in the Past or Code of the Wolf (2) or Grin and Bear It or Make It Move (3) Loops, or the Game Design or Art Explosion (4/5) Pins. Some may want to attend a District Day Camp or Twilight Camp – details to follow.
July: Swim On! … earn the Floats and Boats (1), Spirit of the Water (2) or Salmon Run (3) Adventure Loops, or the Aquanaut (4/5) Pin. Some may want to attend Summer Camp (3 days, 2 nights) at Bert Adams Scout Camp - details will emerge at www.AtlantaBSA.org, under "Camp".
Attached at the bottom of this page is a back page from a Pack Fun Family-Led Program flyer in Word, and you can edit away to highlight how your Pack and Dens might want to plan a program year.
---
The Den Schedule and Den Leader's Role in Family Led Program
Under a Family-Led Program, the schedule for a Den certainly moves from meeting in the same place and it may also move from meeting at the same time – families can do Cub Scout Adventures on their own schedule. The role of a Den Leader evolves from "lead meetings" to "lead parents", and may look like this:
1) Check-In With Parents -- How Are They Doing. (This is important for your "in person" parents too!)
At the start of a program year or when you re-start your program after you've been dormant, you'll want to have a group parent meeting anyway to pitch Parent involvement -- under a Family-Led Program, this is more important, and Parent-Check Ins will need to be repeated regularly.
When you schedule a time for a group Check-In, don't assume that time will work for all -- people's schedules will be in flux during regular times, and more during physical distancing times.

Friendly follow up by phone (plus text, email, social media) is key to getting families on board.

Part of any Check-In session will be to describe how Handbook Adventures and other Cub Activities can be done by a family.
Have regular follow up Check-In sessions, especially before events that may need an explanation, like how to do a virtual campout or just "talking through" how to do an Adventure at Home.
2) Share Cub Scout Resources - For Family-Led Adventures.
In any Handbook, you will want to have a plan for completion of the required Adventures, and while there is no requirement that every family does each Adventure at the same time (or day or week or month), there is community value in sharing similar experiences in (relatively) real-time.
So as part of Parent Check-Ins, as well as follow up texts and emails and social media, you'll want to look at your list of adventures (see our Cub Adventure resources for links to all of them, Rank by Rank and Adventure by Adventure), and share the link of the Adventure that's coming up next.
3) Brief Den "Social" Check-Ins -- Just For Fellowship.
During physical distancing, people desire social connections and really miss them. Cub Scouting can deliver a way to make connections -- with both parents and Scouts.
We advised having brief "Social" Check-Ins can allow Scouts to talk to each other (if you do it over Zoom or another screen, they can see each other too) -- and that may be as important as "doing an Adventure".

After all, "belonging to a den" community is a key method of Cub Scouting.

In a post-pandemic time, "social" events for the Den can still be great. If you gather the den for a backyard cookout or some other fun, just do it!

You don't need to work on any advancement or wear the uniform.
Just do fun things with your friends and their families.
4) Brief Virtual Den Meetings -- Like Show and Tell Talk Time.
This was the advice in 2020-21 about virtual Den Meetings – hopefully you won't need to go back to Zoom meetings, but if you do, these tips might help.
Planning and running a Den Meeting (Den Adventure) seems hard even when you're "in person" and you can have running around time in playgrounds and parks.
Planning and running a "virtual" Den Meeting over Zoom or other connection is a lot harder, for several reasons:

All "hands-on" group games are either impossible to do virtually or are difficult to replicate.

If it's difficult and comes off as "not fun", that going to be a turnoff for Scouts and their Parents.
In any Cub Scouting event, we want to keep them coming back for more because it is fun.

Note: there can be fun games done over Zoom, but you have to know your audience and practice (it can be a good idea to get "buy-in" from other parents by doing a practice with them).

Other "hands-on" group activities are also difficult to replicate over Zoom when you're trying to do the same activity at the same time but in different places. Not impossible -- just difficult.

This is one reason why for best results a Den or Pack Leader will lead the Parents in how the Parents can lead their Scouts.
If a Scout is online but a Parent isn't leading them or isn't fully attentive, maybe the Scout will get frustrated.
And if you make the "hands-on" group virtual activity too simple, it won't be fun or challenging to the families who are really engaged -- they will want to do more.

To keep virtual meetings flowing, you might abbreviate them, do what will work best to keep your Den audience (Scouts and Parents) engaged.

One route that should be interesting is family "show and tell" of what they did working on the Adventure they did at home -- especially if there is a lot of show, either live or with pictures and video.

Under this approach, the family does the Adventure activity on their own time.
Virtual Den meeting time is to share what each did.

That way, the family can do the Adventure activity when it best fits the family schedule -- maybe with all siblings and parents -- and they can take pictures and video to share.
This will allow each Scout and family who did an Adventure element to shine, and spark ideas in the heads of other families about how they too can do Adventures at and from home -- and then get their chance to shine.

Be sure to confirm in advance to families what you will do at the Zoom meeting so they have a chance to present and succeed.
And if you will have "live during Zoom" activities, be sure families know what to do to prepare.

Den Leaders can still do an Opening and Closing, and have a "Den Leader Minute" to recognize everyone who did something great since the last time you Zoomed.

One other limit of Zoom meetings is that you can't really see everyone and even then, you don't see what they are doing.

Any it's very hard for leaders and parents to coordinate in real-time during a Zoom meeting.
Even private messages will take time to send and absorb -- and risk breaking the meeting flow.

The last aspect of Zoom meetings and physical distancing life disruptions is that the time picked for a Zoom meeting may not be good for everyone.

But by doing shorter Zoom meetings, it may be possible to do "catch up" Zoom virtual meetings to allow families to check-in and "show and tell".
Another "virtual" connectivity tool is to share fun pictures and videos with all families to view on their own schedules -- even if a family can't attend "live", they can still submit pictures and video and stories to share with the Den, and the best of what was presented at the Den Zoom virtual meeting can also be shared to be enjoyed by all again.
For more on what a Den or Pack Leader might do to support a Family-Led Program, see this video and the attached PowerPoint.