Amazing Activities | Scouting On Demand
Each month Scouting On Demand will offer Scouting activities you can do as a family or participate with your Den or Pack! These activities are focused on FUN, easy ways to hang out with your family, learn a little and enjoy the great outdoors!
---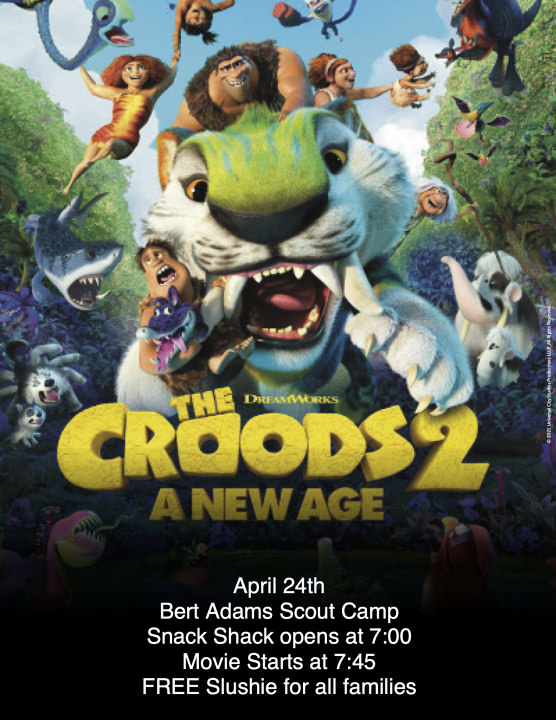 Wheels and Reels | April Activity
Join us on April 24th at Bert Adams Scout Camp for CROODS 2!
7:00pm Snack Shack opens
7:45pm Movie Begins
For those who register for this free event before April 20, you will receive a coupon for a free Slushie from the Snack Shack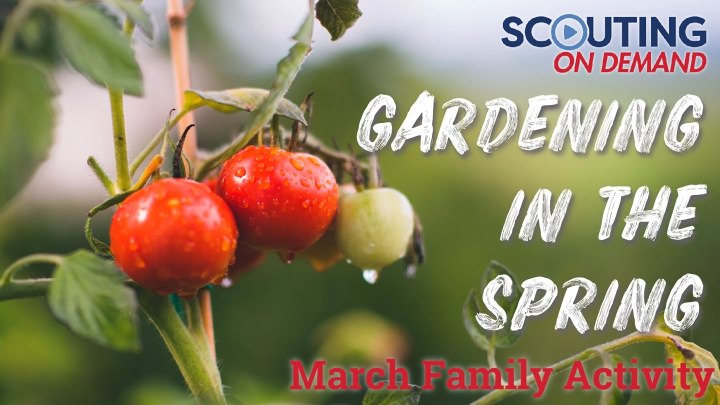 Seed, Plant, Grow | March Activity
With the renewal of the year and with the start of Spring right around the corner on March 20 (also known as the Vernal Equinox), new life emerges.
Growing your own good can be considered Sustainability by creating your own food source.
Gardens have been around since the beginning of time and have evolved from simple to massive incorporating many different types of food to a simple herb garden.
This activity is for a simple herb garden. The steps below are for a smaller scale garden for practice in making a bigger garden.
Make a compost pile. Learn how at www.gardening channel.com/compost
Consider what you will grow. An herb garden is easy and very kid/family friendly .
Choose a location. This will be determined by your space availability. For beginners let's garden in a flower box. If space is limited you can plan in plastic tubs which will make your garden portable.
Prepare the area you will plant in by breaking up the soil.
Add compost from step 1 above
Pick what you will be planting. Take into consideration the time it takes your garden to be harvested. Cucumbers are a quick garden vegetable to grow.
Start planting
Tend to your garden daily and water as needed
A fun suggestion for beginners is a Pizza herb garden. This garden consists of growing parsley, basil and oregano. Pick up plum tomatoes at your local grocer however, to take it one step further plant a few tomatoes. Plum tomatoes are a good choice and have a harvest period of 60-80 days. For further directions please refer to www.gardenknowhow.com.
Other gardening sites for use are:
Learning to garden is helpful with scout adventures. See below which adventures are obtainable by building a garden
Lions: Elective Ready, Set, Grow
Tigers: Tiger Bites
Wolf: Elective Grow Something
Bears: Fur, Ferns and Feathers option 7
Have fun growing!

Scout Day with the Capitol | February Activity
Scout Day at the Capitol is an annual event hosted by the Atlanta Area Council, and while remaining mindful of health concerns, we are bringing the Capitol to you!
If you missed the live event, no problem! Watch Scout Day with the Capitol at a time and place that works for you.
Watch Scout Day with the Capitol
Apply This Activity to Your Advancements:
Learn the role of someone who provides service to your community.
Demonstrate loyalty over the next week at school or in your community. Share at your next den meetinghow you were loyal to others.
With your parent or guardian's permission, talk to a military veteran, law enforcement officer, member of the fire department, or someone else approved by your den leader. Talk about his or her service to the community or country. After you have visited with the individual, write a short thank-you note.
Learn about the changes in your community, and create a project to show your den how the community has changed
With your school or den, visit a local sheriff's office, police station, or fire department OR talk with a fire safety officer or law enforcement officer visiting your school or den. Find out what skills the officers use to do their jobs. Ask questions that will help you learn how to stay safe.
Learn about and describe your rights and duties as a citizen, and explain what it means to be loyal to your country.
Meet with a government or community leader, and learn about his or her role in your community. Discuss with the leader an important issue facing your community.
SCOUTS BSA
Choose an issue that is important to the citizens of your community; then do the following:
Find out which branch of local government is responsible for this issue.
With your counselor's and a parent's approval, interview one person from the branch of government you identified in requirement 4a. Ask what is being done about this issue and how young people can help.
Share what you have learned with your counselor.
Citizenship in the Nation*
List the six functions of government as noted in the preamble to the Constitution. Discuss with your counselor how these functions affect your family and local community.
Name the three branches of our federal government and explain to your counselor their functions. Explain how citizens are involved in each branch. For each branch of government, explain the importance of the system of checks and balances.
Name your two senators and the member of Congress from your congressional district. Write a letter about a national issue and send it to one of these elected officials, sharing your view with him or her. Show your letter and any response you receive to your counselor.
*Tour required. Plan a trip with a small group to the Georgia State Capitol or take a Virtual Tour of the Georgia State Capitol.
Explain what citizenship in the world means to you and what you think it takes to be a good world citizen.
Explain how one becomes a citizen in the United States, and explain the rights, duties, and obligations of U.S. citizenship. Discuss the similarities and differences between the rights, duties, and obligations of U.S. citizens and the citizens of two other countries
Discuss with your counselor the career opportunities in American heritage. Pick one that interests you and explain how to prepare for this career. Discusswhat education and training are required for this career.
Interview someone you know fairly well, like, or respect because of his or her position, talent, career, or life experiences. Listen actively to learn as much as you can about the person. Then prepare and deliver to your counselor an introduction of the person as though this person were to be a guest speaker, and include reasons why the audience would want to hear this person speak. Show how you would call to invite this person to speak.

Service to Others | January Activity
January is the month where we celebrate former Scout, Martin Luther King Jr. MLK Day is a holiday designated as the National Day of Service to encourage all Americans to volunteer to improve their communities. So, let's do some good in our communities this month!
Pick at least one service project you can do as a unit or as a family. There is a short list of ideas at here, including Scouting For Food!
Remember, Scouts are asked to "Do a Good Turn Daily". Take pictures of you serving and share them on our Facebook page.

Cookie Decorating Contest | December Activity
Ready, set, DECORATE! The holidays are around the corner and we want to see YOUR cookie decorating skills. Show off your best decorating skills and you could win one of our prizes!
How to Enter and Win:
As a family, make your favorite family cookie recipe, pre-cut or pre-made cookies work too. (Check out a sample recipe below.)
Make enough cookies for each member to design 3 entries and have a few to share and enjoy.
There will be four judged categories (prizes for each category winner)
CATEGORIES
Best individual cookie design
Best family cookie design
The most creative shaped cookie
Most creative design depicting what scouting means to you
Entries should be submitted with a photo of the creator along with designed cookie. Last day to submit entries is December18, 2020! Winners will be contacted directly and announced on December 22, 2020.
Click here to enter your submission.
Sample Sugar Cookie Recipe:
Makes 4 dozen cookies
INGREDIENTS:
2 3/4 cups all purpose flour, sift twice to fluff flour, then re-measure
1 teaspoon baking soda
1/2 teaspoon baking powder
1 cup fully softened butter (equals two full sticks of butter)
1 1/2 cup sugar
1 large egg
1 teaspoon vanilla extract
Red or green sugar crystals (make your own festive mixture)
DIRECTIONS:
Preheat oven to 375 degrees
In a small bowl mix sifted flour, baking soda and baking powder, set aside. The sifting will result in using less flour by making it fluffy.
In larger bowl cream together in order, butter and sugar until smooth. Beat in egg and vanilla. Next, add small amounts of the flour mixture until all flour is mixed in. NOTE: Remember do not eat raw cookie dough.
Use two teaspoons to make rounded balls of dough (you can use your hands also). Roll dough balls in red or green sugar crystals if desired then place on ungreased cookie sheet spacing to they will be allowed to spread.
Bake 8-10 minutes or until golden brown. Let stand on cookie sheet 2 minutes before removing and cooling on wire rack.
Enjoy when fully cooled!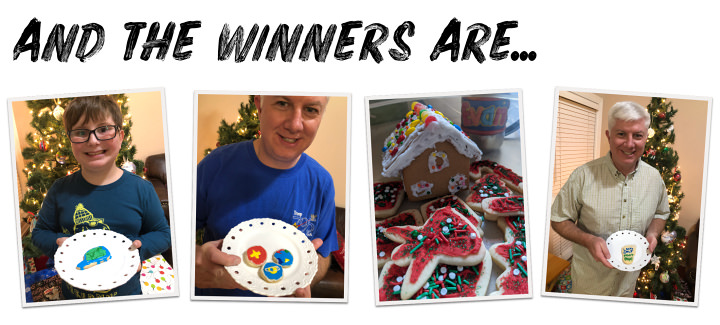 (from left to right)
Best Individual Design: Evan B.
Most Creative Depicting Scouting: Merit Badge Cookies
Most Creative Shaped Cookie: Evan W.
Best Family Design: Leave Only Foot Prints
---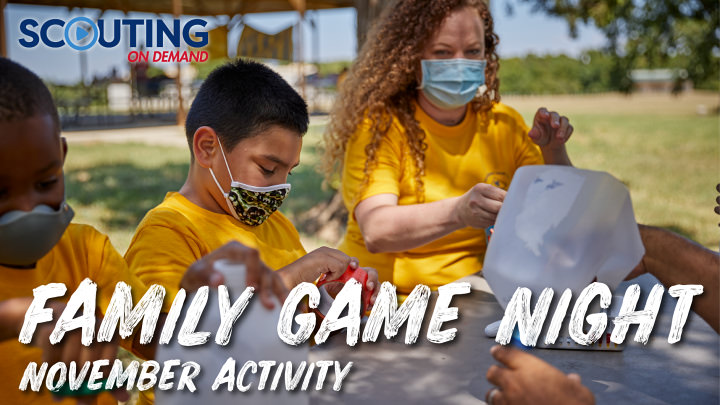 Family Game Night | November Activity
Family time is important and a game night is a great idea for families to bond. We are encouraging each family to play 1 game per week if possible. Click here for a list of rank requirements met by playing games as a family.
One game will be made up by the Scout along with the rules and directions on how to play the game
Other games can be chosen from your variety of games
Some games may help your Scout with rank advancement
We encourage pictures to be sent highlighting your Family Game Night