Amazing Activities | Scouting On Demand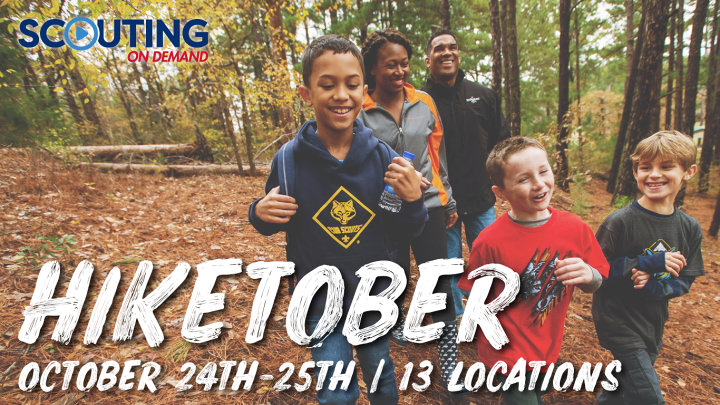 Each month Scouting On Demand will offer Scouting activities you can do as a family or participate with your Den or Pack! These activities are focused on FUN, easy ways to hang out with your family, learn a little and enjoy the great outdoors!
---
Upcoming Events
Hiketober | October 24-25 | 13 Locations
Hike one of the 13 locations below this weekend and take a picture of your hike and tag us on social! Challenge yourself and your family by hiking one trail a month. Fill out this form when you hike 12 trails, you can receive a cool patch.
| | |
| --- | --- |
| District | Trail Name |
| Appalachian Trail | |
| Button Gwinnett | |
| Foothills | |
| Hightower Trail | |
| Indian Springs | |
| Northern Ridge | |
| Phoenix | |
| Picket's Mill | |
| Silver Comet | |
| Soapstone Ridge | |
| South West Atlanta | |
| Southern Crescent | |
| Yellow River | |
---
Additional Get Out and Scout Activities:
Fly a kite. Autumn means a bit of a breeze in Georgia and it's a great time to take to the skies with a kite. Don't have a kite? Make one! https://boyslife.org/hobbies-projects/projects/158136/how-to-make-a-classic-diamond-shaped-kite/
Collect supplies for your local food pantry. Even if it's just a few cans from your next grocery trip, it means alot to the folks in your community. Find your local food pantry here - https://www.foodpantries.org/ci/ga-atlanta or talk to your Pack, charter organization, or church to see if they have a food pantry they support - make it easy, help out.
Make a pinecone turkey (or a whole flock) for the Thanksgiving table. https://www.youtube.com/watch?v=RrRR6aE1ox4 Take a walk to your favorite tree to find the best pinecones. While you're there, why not take a 1 foot hike? https://youtu.be/r9x1RuDjJwM
Family Art Escapes at the High Museum, November 21 - Explore the museum, make some art, have fun. Preregistration/tickets required - https://high.org/event/family-art-escapes-5/
Duty to Country - Visit a local historic site and explore the rich and incredibly impactful history of Georgia. Explore the Etowah Indian Mounds, a beautiful trip back in time. Make sure to pack a snack for a quiet bite by the river. Snacks are 1 of the 6 Essentials, so enjoy Being Prepared! - https://gastateparks.org/EtowahIndianMounds or wander Kennesaw Mountain National Battlefield, an amazing window into the Civil War - https://www.nps.gov/kemo/index.htm. And no, you don't need to hike up the mountain to take in the incredible depth of Kennesaw Mountain. The Environmental Trail is a great walk in the woods; add the 24 Gun Trail for older Cubs.
A Scout is Helpful - Get In And Scout - A lot of us celebrate Thanksgiving at the end of November. There's no better time to show your Scout Spirit than surrounded by family and friends. Help out in any way you can (maybe leave carving the turkey to a caring adult) and be cheerful and friendly to all gathered. No uniform will be needed to pick out the Scout in the house.
Easy Cub Scout Camp Cooking - S'mores four ways. Make your favorite this weekend; fire is optional. https://youtu.be/1TREHavTdUs
Backyard Cub Scout Tricks - Easy shoelace knot tripod and blanket tipi. https://youtu.be/Ix9Jpz_b7t0