2017 Camp Card Sale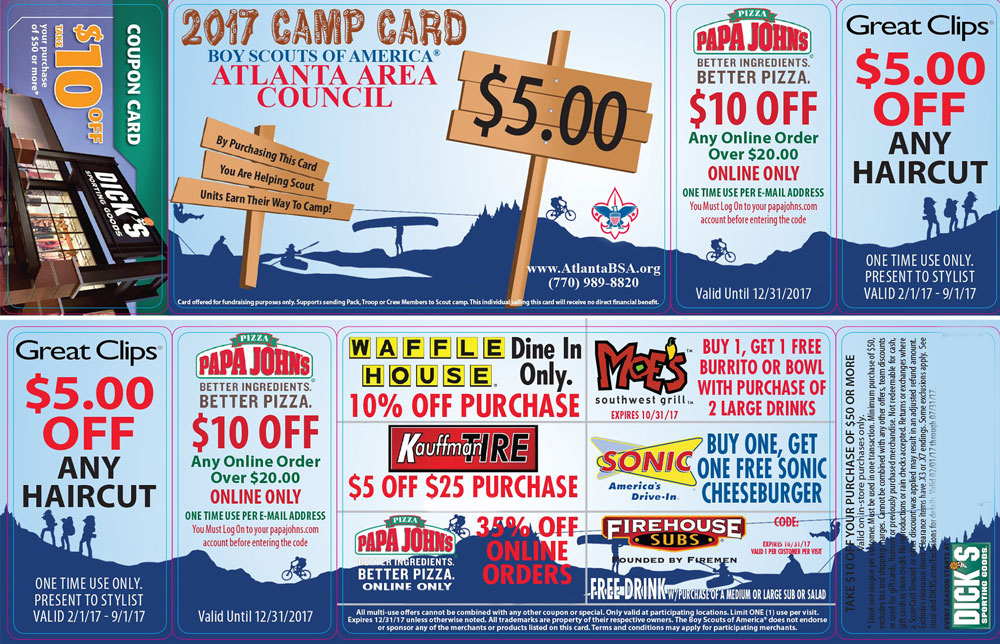 ---
Settle up your Funds
Your District will have weekly settlements where you can settle up the money you've earned from selling Cards and get more Cards if you need them. Click here to view all of the District Settlement Dates.
At the end of the salel in April there will be a final settlement through your District Chair or the Atlanta Area Council to reconcile funds and unsold cards. At this point you'll be qualified for prizes!
---
What are Camp Cards?
Camp Cards are discount cards to businesses around Atlanta that your Scouts can use as a fundraiser for Scouting activities. For every $5.00 card sold, your Scout earns $2.50 for themselves or their Troop. These funds can be used for any Scouting activity including Day Camp and Summer Camp.
What's on the 2017 Camp Card?
This year we're offering three exciting new discounts! Moe's Southwest Grill has partnered with the Atlanta Area Council to offer Buy One, Get One Burrito or Bowl with the purchase of two large drinks. Sonic Drive-In is offering buy one, get one free Sonic Cheeseburger. Dick's Sporting Goods is offering $10 off any purchase over $50. These three offers join some of our most popular offers from past cards including Papa Johns, Waffle House, Kauffman Tire and Firehouse Subs!
One-Time Use
Papa Johns -- $10 off any online order of $20 or more
Dick's Sporting Goods -- $10 off your purchase of $50 or more
Great Clips - $5 off any haircut
Multiple Use Offers
Moe's Southwest Grill -- Buy 1, Get 1 Free burrito or bowl with purchase of 2 large drinks
Sonic -- Buy one, get one free Sonic Cheeseburger
Waffle House -- 10% off your purchase
Kauffman Tire -- $5 off $25 purchase
Papa John's -- 35% off any online order
Firehouse Subs -- Free drink with purchase of a medium or large sub or salad
Sign Up To Sell
Click here to your Unit up to sell Camp Cards. Then attend a Camp Card Kickoff on February 1 or 4, 2017 to receive your Leaders' Guide and your first batch of cards. If you can't make it to a Kickoff you can download all of the Materials in the resources section below.
How to Sell
You and your Scouts can sell your cards any way you see fit. Sell them to your family, friends, neighbors, coworkers, etc. For some ideas on how to sell your Camp Cards click here to download the Maximizing Your Camp Card Sale flyer.
Share your Success Stories!
We want to hear how your Camp Card Sale is going. Send in your Scouts' success stories to get featured in a future Camp Card Email! Send the story, a photo, the Scout's name and Unit Number to Hunter Woodworth!
Check your inbox!
We'll be sending you updates, tips and tricks about the sale via email and on Facebook and Twitter throughout the Spring.
Earn Prizes!
This year we're offering more prize options than ever before! Every prize level above 50 cards includes the option of an Amazon Gift Card! And this year's top prize is your choice of a state-of-the-art gaming console (Xbox One S or Playstation 4) or a brand-new Apple Watch (Series 2)! Other prizes include Eureka camping gear, a JBL Pulse Bluetooth Speaker and the limited edition 2017 Camp Card Sale Patch.
We're Not Just Selling Discount Cards, We're Selling Camp
While the Camp Card discounts are a great plus, what you're really selling is character and a better community. What you are really doing is making sure every Scout can benefit from summer camp.
Whether you're a Cub Scout going to Cub Scout Day Camp, Webelos Week, Cub Scout Summer Camp, a Boy Scout heading to Woodruff Scout Camp or Bert Adams Scout Camp, a Venturer attending Venturing Extreme Week at Woodruff, or an Explorer building carer experience at Exploring Engineering Academy; we want to help you make your Summer Camping experience affordable and waesome.
The Camp Card sale is designed to help Scouts earn funds to offset the cost of their Scouting experience. Units participating in this program will earn 50% commission ($2.50) for each $5 Camp Card they sell. The sale begins on February 1 with a settlement date of April 28.
This program is RISK FREE, units can simply return any unsold cards at settlement on or before April 28, 2017.
Resources
Click here to download the Camp Card Leaders' Guide.
Click here to download the Camp Card Quick Reference Guide.
Click here to download the 2017 Camp Card Additions Flyer.
Click here to download the Twelve Days of Camp Cards Flyer for tips on how to sell more Camp Cards.
Click here to download the Unit Camp Card Tracking Worksheet.