Popcorn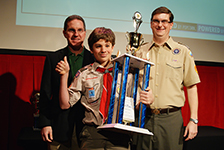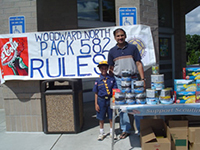 Click here to register for the 2017 Popcorn Sale!
The Popcorn Sale is Important!
• Scouts gain confidence, salesmanship and communication skills, and a sense of accomplishment. The popcorn sale is not about selling popcorn, it's about promoting Scouting and the Scouting ideals!

• Units have the ability to fund their entire year's program through the popcorn sale alone (45% of selling Units last year achieved this). We have also changed the ordering guidelines and Units are allowed to order by container and not by the full case (Take Order only). This reduces the risk of having left over product at the end of the sale.
• The popcorn sale helps the Council raise money for improving the summer camp facilities/building new camp locations, offering more extensive training for our volunteer leaders and members, and helping us get to know and serve the needs of our volunteers and Units better.
Popcorn Sale Resources
There are plenty of good reasons for your Scouts to take part in the annual popcorn sale! Besides the money that can be earned for camp and Scouting activities throughout the year, Scouts learn valuable skills like teamwork, goal setting, time management and salesmanship - just to name a few.
These resources have all sorts of useful information to aid you and your Unit in the popcorn sale and, as always, we are here to help answer any questions that you may have.
Register your Top Selling Scouts!
Scouts who sell $1000 or more during the popcorn sale will receive 2 tickets to the Atlanta Hawks vs. Orlando Magic basketball game on February 4, 2017, a Top Seller t-shirt with their names on the back, and a Top Seller certificate. The deadline to register your $1000+ selling Scouts to receive their Top Seller prizes was December 8th. Congratulations to all of our top sellers!
Congratulations to the $650 Club Six Flags/White Water Season Passes Winners!
Congratulations to our 4 Scout winners of the Six Flags/White Water season passes drawings:
Simon B., Pack 350, Silver Comet district
Aidan L., Pack 142, Hightower Trail district
Jacob L., Pack 2, Silver Comet district
Conner C., Troop 455, Phoenix district
Hawks mini basketballs are now available for pick up in the Council Program Center for Scouts who have sold $650 or more! Just bring verification of sales (Take Order form, app screenshots, online sales print outs, and/or Show & Sell tracking) to the front desk in the Program Center and they will stamp your form and give you the Hawks mini basketball. Unit Popcorn Kernels or parents can pick up the Hawks mini basketballs.
2017 Resources