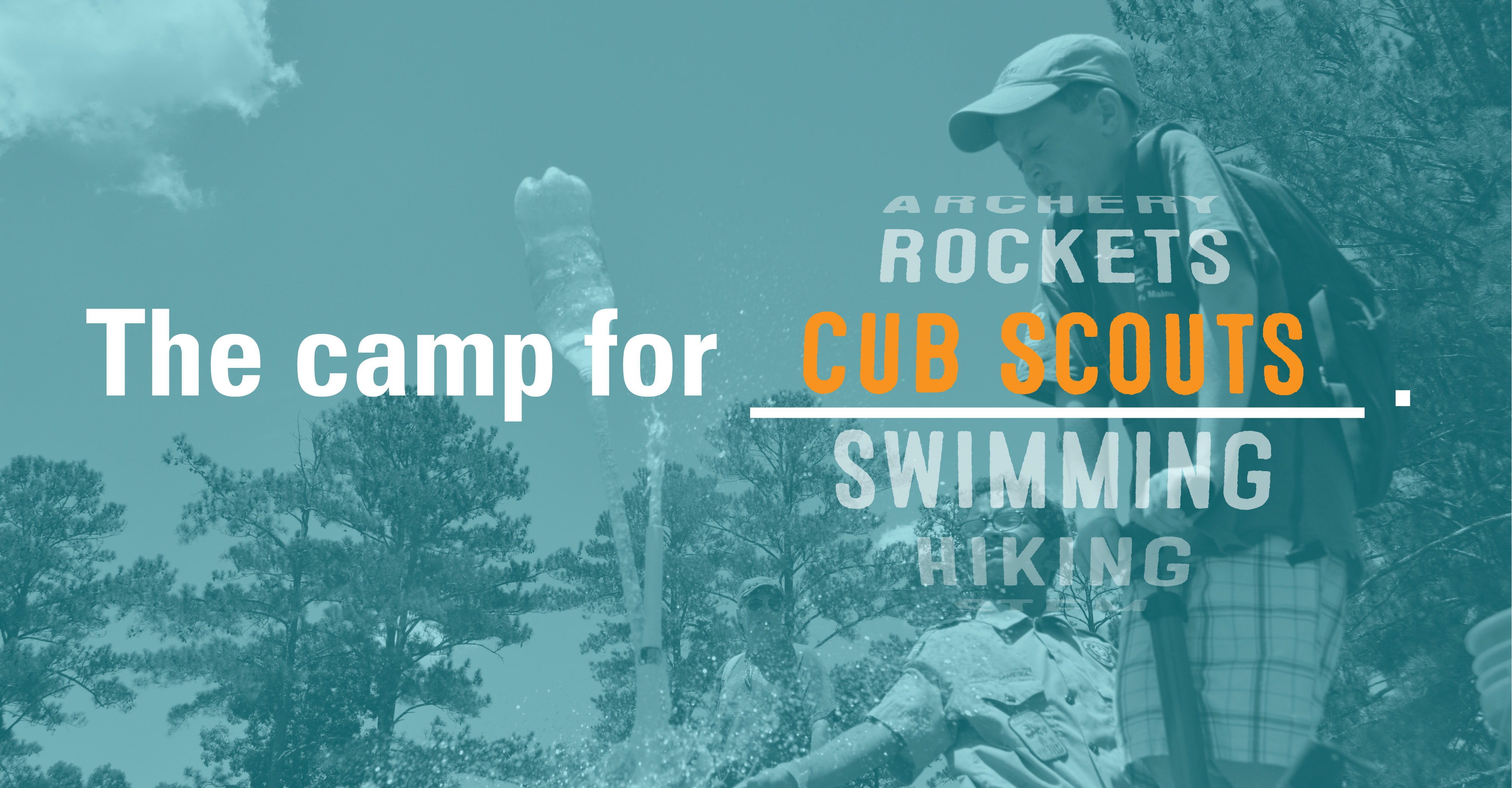 Overnight Camp at Bert Adams Scout Camp
Cub Scout Overnight Camp is overnight resident camp for Cub and Webelos Scouts at Bert Adams Scout Camp near Covington, Georgia. This all-inclusive program includes camping in canvas wall tents, healthy meals in the air-conditioned dining hall, and access to modern shower and restroom facilities.
There are 4 sessions of Summer Camp in 2018. Scouts can attend with their Pack or with their family. If the Pack is not going, come as a family! Lots of Cub Scout families attend Summer Camp on their own.
We are excited this summer to include a camp water bottle and drawstring bag for every youth at Summer Camp! Summer Camp T-shirts this year will be available through the Trading Post.

2018 Cub Scout Overnight Camp Sessions
Click the link for a week below to register online as a Pack, Den or family. The whole family including siblings can attend all sessions except Webelos Week.
July 2-5, 2018
July 6-9, 2018
July 10-13, 2018
July 13-16, 2018
There are all sorts of exciting activites for Packs, Dens and families to participate in at Bert Adams.
Aquatic Activities
There will be ample opportunities to cool off in the water at camp. We will have free swims and Mega Slip'n'Slide every afternoon of camp.
Mountain Biking
Biking is a way of life at Bert Adams. Take to the trails and enjoy our Mountain Biking Trail activity. Bikes and helmets will be available at camp for your use.
Slack Lining
Try your skill at this fun and challenging activity. Slack-lining is a practice in balance that uses nylon webbing tensioned between two anchor points.
Gaga
A fantastic game anyone can play. It's an Israeli version of dodgeball played in an octagonal pit. Participants try to hit other competitors below the knee with a large rubber ball. The last player standing wins.
Human Foosball
If you've played Foosball before this giant game will be a cinch. Scouts become the soccer players in our lifesize Foosball courts in the Field Sports area.
Field Sports Games
Scouts and families can compete in friendly games of Volleyball, Flag Football and Ultimate Frisbee in the Field Sports area.
Bouldering
Scouts can practice their climbing skills on our bouldering wall. Leaders and parents must be trained on climbing basics while at camp in order to bring their Scouts to the wall.
Other Activitites
Other activities during camp will include:
Belt Loops
Shooting Sports
Outdoor Basics
Handicrafts
and More!
Activity registration will open May 2.