2017 Camp Card Sale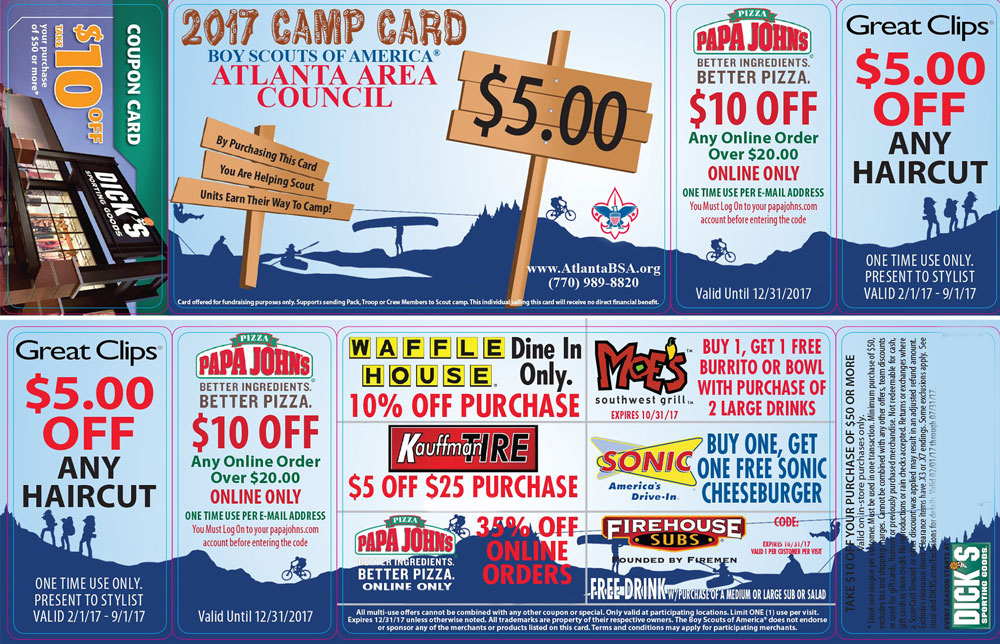 ---
---
What's New in 2017?
New Discounts!
This year we're offering three exciting new discounts! Moe's Southwest Grill has partnered with the Atlanta Area Council to offer Buy One, Get One Burrito or Bowl with the purchase of two large drinks. Sonic Drive-In is offering buy one, get one free Sonic Cheeseburger. Dick's Sporting Goods is offering $10 off any purchase over $50. These three offers join some of our most popular offers from past cards including Papa Johns, Waffle House, Kauffman Tire and Firehouse Subs!
New Prizes!
This year we're offering more prize options than ever before! Every prize level above 50 cards includes the option of an Amazon Gift Card! And this year's top prize is your choice of a state-of-the-art gaming console (Xbox One S or Playstation 4) or a brand-new Apple Watch (Series 2)! Other prizes include Eureka camping gear, a JBL Pulse Bluetooth Speaker and the limited edition 2017 Camp Card Sale Patch.
Check your inbox!
We'll be sending you updates about the sale via email and on Facebook and Twitter throughout the Spring.
We're Not Just Selling Discount Cards, We're Selling Camp
While the Camp Card discounts are a great plus, what you're really selling is character and a better community. What you are really doing is making sure every Scout can benefit from summer camp.
The Camp Card sale is designed to help Scouts earn funds to offset the cost of their Scouting experience.
Units participating in this program will earn 50% commission ($2.50) for each $5 Camp Card they sell. The sale begins on February 1 with a settlement date of April 28.
This program is RISK FREE, units can simply return any unsold cards at settlement on or before April 28, 2017.
2017 Camp Card Discounts
One-Time Use
Papa Johns -- $10 off any online order of $20 or more
Dick's Sporting Goods -- $10 off your purchase of $50 or more
Great Clips - $5 off any haircut
Multiple Use Offers
Moe's Southwest Grill -- Buy 1, Get 1 Free burrito or bowl with purchase of 2 large drinks
Sonic -- Buy one, get one free Sonic Cheeseburger
Waffle House -- 10% off your purchase
Kauffman Tire -- $5 off $25 purchase
Papa John's -- 35% off any online order
Firehouse Subs -- Free drink with purchase of a medium or large sub or salad
2017 Prize Structure
1,000 Cards– $500 Amazon Gift Card or Xbox One S or Playstation 4 or Apple Watch Series 2
500 Cards – $250 Amazon Gift Card or Eureka Midori 2 Person Tent w/ Eureka Lane Pine Sleeping Bag
300 Cards -$150 Amazon Gift Card or JBL Pulse 2 Portable Bluetooth Speaker
100 Cards – $50 Amazon Gift Card
50 Cards- $20 Amazon Gift Card
20 Cards- Patch
Resources
Click here to download the Camp Card Leaders' Guide.
Click here to download the Camp Card Quick Reference Guide.
Click here to download the 2017 Camp Card Additions Flyer.
Questions?
We are creating a "FAQ" page. Click here to submit your questions. Our goal is to update the Q&A page with responses to your questions.