2016 Camp Card Sale
We're Selling Camp, Not Just Discount Cards
While the Camp Card discounts are a great plus, what you're really selling is character and a better community. What you are really doing is making sure every Scout can benefit from summer camp.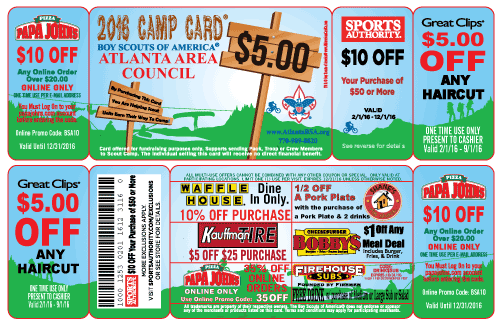 ---
Click Here to Register your unit for the 2016 Camp Card Sale
---
Camp Card Kick-Off Dates
Kick-Off #1- Wednesday, February 3rd- 6:00 PM - Volunteer Service Center
Kick-Off #2- Saturday, February 6th- 9:00 AM- Volunteer Service Center
---
2016 Camp Card Discounts
One time use offers:
Papa John's - $10 off an order of $20 or more
Sports Authority- $10 off a purchase of $50 or more
Great Clips- $5 off any haircut
Multiple use offers:
Waffle House: 10% off purchase
Shane's Rib Shack: 1/2 off a pork plate with the purchase of a pork plate & 2 drinks
Kauffman Tire: $5 off $25 Purchase
Cheeseburger Bobby's: $1 off any Meal Deal
Papa John's: 35% off Online Orders
Firehouse Subs: Free Drink with purchase of a medium or large sub or salad
---
2016 Scout Recognition Items
1,000 – Xbox one/Play Station 4/iPad Mini 3 Wi-Fi 16GB
500 – GoPro- Hero + HD Action Camera
300 – Pill 2.0 Portable Blue Tooth Speaker or Beats by Dr. Dre Solo 2 On Ear Headphones
100 – $50 gift card (Amazon) and a limited edition 100th Anniversary Atlanta Area Council Patch
50- $20 gift card (Amazon)
20- Patch
---
Resources
Camp Card Kickoff Presentation
---
Questions?
We are creating a "FAQ" page. Click here to submit your questions. Our goal is to update the Q&A page with responses to your questions.