Boy Scouts & Baseball
Scout Days with the Braves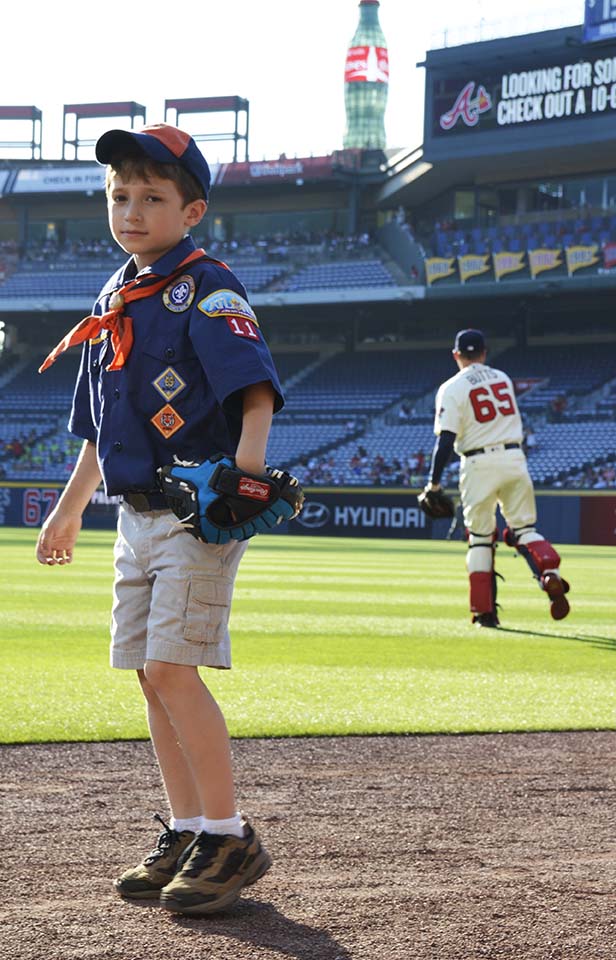 We're excited to welcome the Atlanta Braves to their new home: Sun Trust Park! Cheer on the Braves in their first season at the new ballpark, across the street from our own Volunteer Service Center.
The first Scout Day with the Braves at SunTrust Park will be held on May 6, 2017. Scouts will gather before the game to parade around the field, participate in an opening flag ceremony and then cheer on the Braves as they take on the Saint Louis Cardinals.
Scouts will return to SunTrust Park for a second Scout Day on September 17, 2017 to cheer on the Braves against the New York Mets.
Our New Neighborhood
Directly adjacent to SunTrust Park is a new multi-million dollar mixed use development called The Battery Atlanta. We're excited to welcome our new residential and commercial neighbors to The Battery as they move in throughout 2017 and 2018. The area will feature premiere retail and entertainment destinations for the entire family including:
Antico Pizza
The Coca-Cola Roxy Theater
Cru Food & Wine Bar
The El Felix
Fox Bros. Bar-B-Q
Goldberg's Bagel Company & Deli
Harley Davidson Motorcycle Company
Holeman and Finch
Mizuno
PBR Bar & Grill
Wahlburgers
We have been working with Cobb County and the Atlanta Braves throughout the development and construction process to ensure that The Battery district is a premiere destination in the Metro-Atlanta Region. Cobb County has developed a comprehensive Traffic Management Plan to address the increased interest in the area, and our team at the Atlanta Area Council are preparing the Volunteer Service Center for an exponential increase in visibility.
Frequently Asked Questions
How will Braves games impact Service Center hours?
The Volunteer Service Center and Scout Shop have adopted new hours to better serve our volunteres and families.
The Scout Shop and Volunteer Service Center will be open from 8:30 AM - 6:30 PM Monday-Friday and 9:00 AM - 5:00 PM on most Saturdays.
The Program Center will be open from 8:30 AM - 6:30 PM Monday-Friday and 9:00 AM - 3:00 PM on Saturdays.
The Scout Shop and Volunteer Service Center will close at 3:00 PM on the following Saturdays in 2017: 5/20, 6/10, 6/17, 6/24.
Can I park at the Volunteer Service Center for Braves Games and other events at SunTrust Park?
The Volunteer Service Center parking lot will be available for public parking through our partner, LAZ Parking during evening and weekend games. Parking should be purchased through LAZ directly and the lot will open for Event Parking one hour prior to each Home Game or Special Event.
The funds raised through Event Parking will be reinvested into Scouting programs throughout Metro-Atlanta to help us better serve the youth in our communities.
Can I get discounted tickets to a Braves game for being a Scout?
Discounted tickets will be available on specially designated Scout Days with the Braves. We plan to continue offering two Scout Days with the Braves each season and invite the entire Scouting community to join us at an upcoming ballgame.