Notice: The Scout Shop will clse at 2:00 PM on December 10th and will re-open with regular hours on December 12th.

November is a month of thanks. As Scouts, we like to give back, be thankful and most of all help other people at all times. We thank our families, our Scout Leaders, our US Veterans and many others! Read more...
Get the limited edition Centennial Shoulder Patch
The Atlanta Area Council turns one hundred in 2016, and to celebrate we've created a commemorative patch. This limited edition Council Shoulder Patch, featuring the Atlanta Skyline, will only be available during the anniversary year.
Pick up your limited edition shoulder patch for just $5.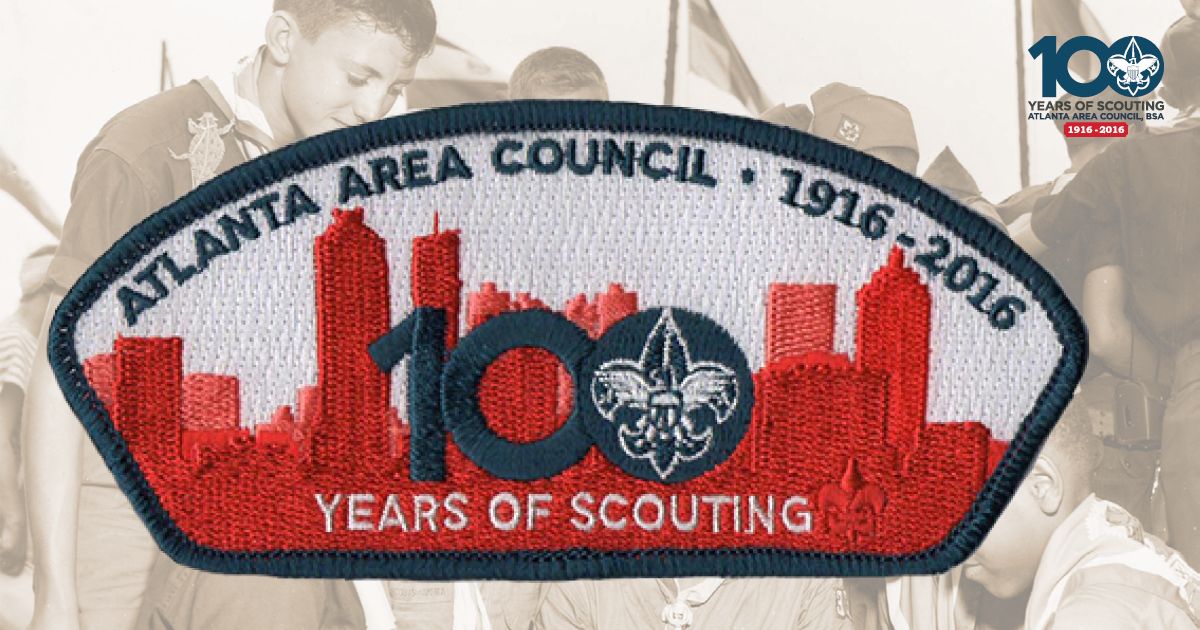 Upcoming Events
| | |
| --- | --- |
| | The Atlanta Area Council is a proud partner with the American Red Cross to provide CPR and basic first aid certifications to the Scouting community... |
| | Basic Adult Leader Outdoor Orientation (BALOO) Training December 17, 2016 at the George and Nora Lingefelt Scouting Center, Canton. Join us... |
| | National Youth Leadership Training (NYLT) is a week-long course at Bert Adams Scout Camp that features instruction in skills that can be used at... |
| | Take camping to the next level with Overtime at the Hall! Experience the College Football Hall of Fame with your unit, friends and family. Settle in... |
| | Need Training? The University of Scouting is the place to be! Choose from more than 50 classes, including youth and adult leadership positions. UoS... |
| | It's time to celebrate! Once again all 13 districts have successfully achieved excellence award levels. Please join us as we celebrate your... |
| | Come Cheer on the Georgia Tech Yellow Jackets as they take on Notre Dame! Tipoff is at 12 pm. Tickets are only $18 each with special events just for... |
| | Come and support the Boy Scouts of America at Philips Arena as the Atlanta Hawks take on the Orlando Magic! See below for pricing and delivery... |
| | This first part of the T3 continuum, The Fundamentals of Training, is designed to help Scouters, regardless of their experience, present effective... |
View all upcoming events